Generate interest in specials and packages exclusively available on your website by creating exciting social media posts to advertise them. Create individual, bookable landing pages for your special offers to channel the focus of your guests and allow them to book your advertised special with just one click.
Social media is a great way to communicate with guests and gain organic interest in your property. Entice guests to book with great deals available for a limited time, to help fill last-minute vacancies or increase midweek and low season occupancy.
Track engagement through Google Analytics for more strategic decision-making for future campaigns and frequently change what you're doing to see what works best.
1. Creating engaging special offers
There are so many types of special offer promotions you can offer to your guests. Consider what you're trying to achieve with the promotion and how you can offer a discount to achieve this. 
If you're looking to increase midweek occupancy, a fixed sum discount might be the best option. A pay x, get y nights free discount is a great way to encourage longer stays from guests, which can be ideal to generate interest during the low season. Percentage discounts are excellent for creating a sense of urgency and getting guests to book quickly to avoid missing out on great savings.
Special offers are an important aspect of both your revenue and marketing strategies so you should be using a system with the intelligence to help you achieve these goals. Creating set dates the guests will need to book to be eligible for the promotion can help to create buzz and a sense of urgency, particularly when heavily advertising the promotion.
2. Funnel guest focus with bookable landing pages
Capturing guests' attention with a special offer is easy, but maintaining that focus until they successfully complete the booking can be a bigger challenge. Create individual, bookable landing pages that guests are transported to when clicking on an advertised special offer.
This helps to keep the guests focused throughout the booking process and saves time and frustration of having to search for the relevant special offer information if the guest lands on the home page after clicking through.
3. Promote your special offers on social media
Generate interest from guests by advertising your specials on social media! Keep the caption clear and short and include beautiful images or videos to accompany your post. This is where you can create a sense of urgency to get guests booking last-minute deals with enticing language. 
Include the link to the unique special offer landing page you have created with a clear call-to-action directive to click the link to book the special.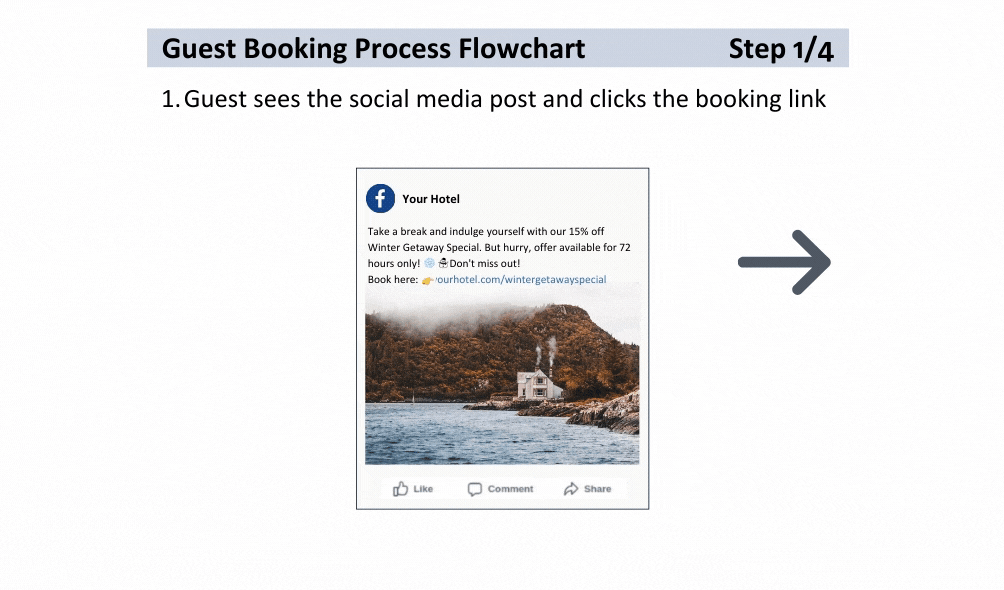 4. Manage your campaigns
Once the post is live, the bookings will start coming in! It's very important to monitor the success of the campaign and consider whether your strategies are working to help with future campaigns. Google Analytics can help to track metrics such as engagement to learn what your guests like and how they book the special.
Remember to regularly check your social media posts for comments from guests and promptly respond to any that need attention and aim to promote campaigns regularly every few weeks, mixed amongst other engaging social media posts to establish interest from your guests.
Boosting your posts with paid social media marketing
Extend the reach of your social media posts with paid marketing. This can be a cost-effective way to ensure your posts are seen by more of the right kinds of people who might be interested in what you're offering.
Depending on which social media platform you're using, you can target people based on demographic, geographic and behavioural factors, as well as a multitude of other targeting metrics. Contact us if you would like more information about boosting your posts with paid social media marketing. 
Key points to remember:
Think about what you want to achieve with the offer

Aim to promote special offers frequently through social media

Define when guests have to book and stay to be eligible for the offer

Individual, bookable landing pages help to channel guest focus

Create a sense of urgency with short, sharp captions 

Monitor your posts and use Google Analytics to measure engagement metrics