The best way to understand Google Hotel Ads (GHA) is by seeing it in action. Open a new tab and search the name of your property.
You'll probably notice your property's My Business Listing on the right-hand side of the screen, with a list of rates from your distribution partners. These rates are dynamic, feeding directly from those platforms and changing to reflect the search criteria in the panel at the top of the ads.
GHA is Google's way of allowing distributors of accommodation to compete with one another for space and ranking in the Ads section of the search results page. The ordering of these Ads is determined by a commission level paid to Google by the distribution partner. 
Why isn't my website listed in Google Hotel Ads?
GHA is a service that must be activated to use. It can be tricky to manage, so we suggest getting a digital marketing specialist to manage it on your behalf. The process begins by ensuring you've claimed your My Business Listing, activating the Ads and setting a ceiling commission level.
Once you're up and running, your direct property website and rates will appear in the Ads listing when someone searches for your property, and you can compete with OTAs to attract bookings.
How am I charged for Google Hotel Ads?
There are three different pricing models for GHA; pay-per-click, pay-per-booking and pay-per-stay. The pay-per-stay model offers the greatest value, in that you only pay commission on bookings made through GHA resulting in guests actually staying at your property.
Payment is made at the end of the month of stay, so you pay nothing until after the guest has stayed with you. Cancelled bookings are factored in and deducted from the outstanding fees, again costing you nothing. 
When someone clicks on your direct website price in Google Hotel Ads, they are taken to your website to complete the booking through your booking engine. Cookies embedded within GHA are enabled for around 24hrs, so if that guest completes their booking on your website within that period of time it will count as a commission-payable (as long as they go on to stay) Google Hotel Ads booking. 
Think of Google Hotel Ads as another distribution channel, where you're paying a commission fee for bookings acquired through that channel. The major difference and benefit with GHA, however, is that the commission level you pay is flexible. This allows you to attract bookings at a much cheaper rate than through online travel agents, whilst having your property prominently displayed in search results. 
Finding the right manager for your Ads
Some digital marketing agencies that manage Google Hotel Ads on your behalf will set the commission at a fixed rate of 15%, making GHA no better than traditional online travel agencies.
We believe technology should empower hoteliers to manage their revenue and bookings the way they choose, which is why we can manage your Google Hotel Ads at a flexible commission level. Once a ceiling commission rate (the highest fee we will set your ads to) is set (usually 10-12%), we help you choose a starting commission.
We then monitor and manage your listing on the Google Hotel Ads platform to attract bookings at the lowest possible commission level. This means although you may agree to a ceiling commission of 12%, you may be acquiring bookings at a far lower fee rate.
Where else do the Ads appear?
There are four main locations where Google Hotel Ads appear, the first of which you've already discovered when you Googled your property name at the beginning of this article. This type of ad is ideal for competing with OTAs when people are already aware of and considering booking your property. Google chooses the way the ads appear based on the keywords and devices used for the search.
The next location for GHA is more targeted towards people looking for accommodation in a specific area when they haven't necessarily narrowed it down to one particular property. In this version of GHA, you're competing for bookings with competitor properties in your area.
A list of accommodation within a particular region will appear, subject to particular search requirements the guest may use. Guests can use filter terms such as "pet-friendly" or "with balcony" to see only properties matching those terms in the results. 
Google Maps and Google Assistant will also display the Ads. When someone does a 'near me' search through Google Maps or the voice function of Google Assistant, a list of nearby properties will display with rates.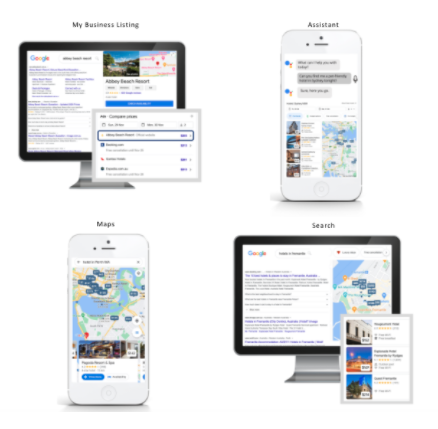 What if Google Hotel Ads isn't for me?
Probably the biggest advantage of Google Hotel Ads is the ability to compete with online travel agents for bookings. If you don't distribute your rooms through any distribution channels, there may be little use for GHA. It's also important that your website has a functional booking engine to allow for bookings coming from Google Hotel Ads. 
Google's Free Booking Links may be a suitable alternative for properties seeking commission-free bookings. You can read more about Free Booking Links here.